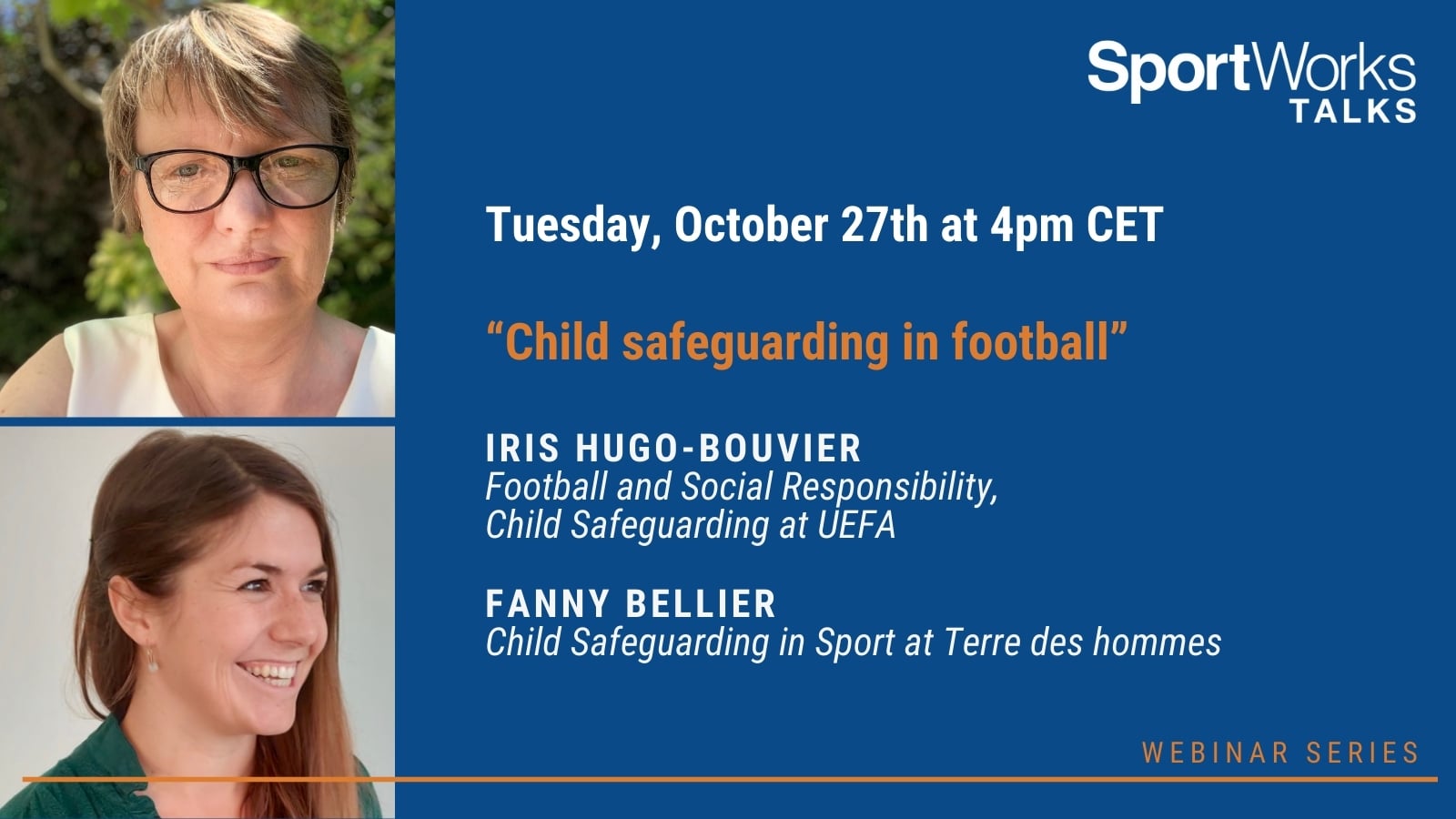 Date and time of webinar
-
SportWorks TALKS invites Iris Hugo-Bouvier &Fanny Bellier for a live webinar: "Child safeguarding in football"
Tuesday, October 27th at 4pm (CET) 
Football, as other sports, is fun and a great opportunity for children to make new friends and develop their skills. Throughout training or games, they learn valuable qualities such as fair play, teamwork, and commitment which can be used in all aspects of their lives. Nevertheless, unsafe sports settings can put children at risk of neglect, physical, emotional and even sexual abuse. UEFA is committed, together with its partner Terre des hommes, to ensure that football is safe for children, at all levels of the game.
Together with Terre des hommes, and in thorough consultation with European football's 55 member association, UEFA launched its new child safeguarding policy, a child safeguarding toolkit and digital platform www.uefa-safeguarding.eu. This new set of resources underline UEFA's commitment to ensuring football is, and will always be, a safe, positive and enjoyable experience for children and young adults (up to the age of 18) and do not expose them to harm or abuse. Our approach to safeguarding is to support UEFA's member associations and affiliates in their safeguarding efforts providing guidance, knowledge and training tools.
Iris Hugo-Bouvier, Football and Social Responsibility Coordinator, child safeguarding, UEFA
Established UEFA's child safeguarding approach in consultation with member associations and in partnership with Terre des hommes. Developed UEFA's child safeguarding policy and toolkit. Supporting and empowering the organisation and its members in their safeguarding approach through capacity building. Extensive work experience in international, multicultural and dynamic environments including sports and foreign affairs.
Fanny Bellier, Project Manager Child Safeguarding in Sport, Terre des hommes
Fanny has been working in various multicultural environments, both in the sport industry and human rights. After working in sport events and sport for development, she dedicated her time to child rights issues within sport in Terre des hommes, including around Mega Sporting Events, sport for development or child safeguarding.
The participation in the webinar is free. Register here.