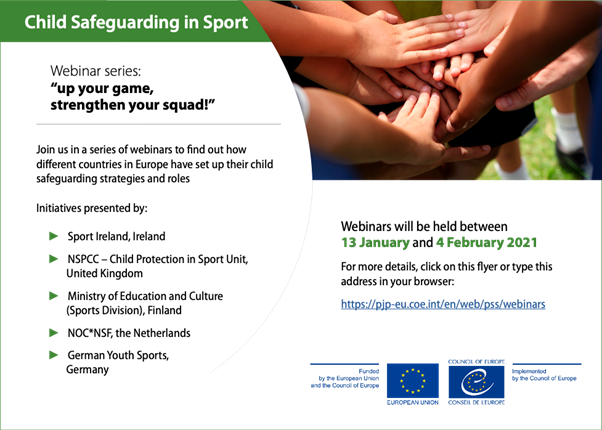 Date and time of webinar
-
This was the first webinar in a series organised in the framework of the European Union and Council of Europe joint project "Child Safeguarding in Sport (CSiS)".
The webinar was presented by Sport Ireland. It took place on Wednesday, 13 January 2021, from 15.30 to 17.30 CET.
Watch below the recording of the webinar.
Sport Ireland is pleased to present an overview of the safeguarding structures, personnel and policies in place in the Republic of Ireland. During the course of the webinar, participants will hear an overview of the roles and remit of relevant bodies; the landscape in which we operate; and an outline of the structures in place from National to grass roots level. Participants will hear from those working at National level in both a statutory role and for a Governing Body about the work that they do in promoting the importance of safeguarding in sport.
Opening and welcome
Ms Elda Moreno, Head of Children's Rights and Sport Values Department, Council of Europe
Ms Paola Ottonello, Sport Policy Officer, European Commission
Dr Una May, Director of Participation and Ethics, Sport Ireland
Speakers
Ms Helen McHugh, Diversity, Inclusion and Safeguarding Manager, Sport Ireland
Ms Laura Nee and Ms Déirdre Horan Martin, Information and Advice Officers, Tusla Child and Family Agency 
Mr Dermot Howlin, Policy, Welfare & Compliance Manager, Gymnastics Ireland