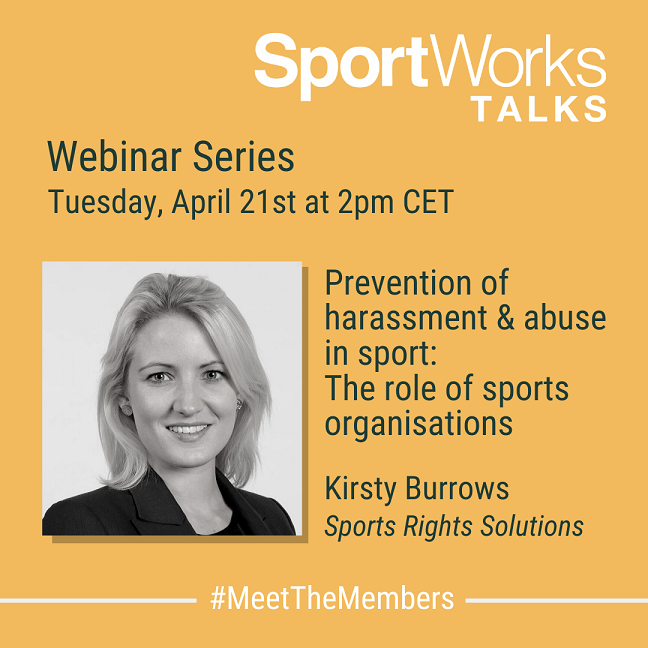 Date and time of webinar
-
Watch below the recording of the webinar "Prevention of harassment and abuse in sport: The role of sports organisation", organised by SportWorks, with Kirsty Burrows as guest speaker.
Research indicates that 1 in 3 women and 1 in 6 men are victims of some form of sexual or physical abuse during their lifetime. Harassment and abuse occur in sport too. Over the past few years, the topic of harassment and abuse in sport has come to the forefront of our minds and attention the world over. However, it is not new. Sports organisations have a crucial role to play in ensuring a safe sporting environment for everyone. One in which athletes may thrive.
In this webinar, it is discussed what constitutes harassment and abuse in sport, the role of sports organisations in the safeguarding of athletes and specific considerations related to the current climate and COVID-19.
Kirsty Burrows is the founder and Managing Director of Sports Rights Solutions Ltd, and lead consultant to the International Olympic Committee (IOC) on the prevention of harassment and abuse in sport. She is a member of the Council of Europe's Pro Safe Sport pool of experts, focusing on procedure, policy and strategy. Kirsty has a Masters degree in Management, Law and Humanities of Sport as well as a first-class honors degree in physiotherapy. It was her career as an elite sport physiotherapist which led her to want to dedicate her time to human rights and ethical issues within sport, including safeguarding, gender equality, and mental health.